Relieves Pain, Restores Health
The primary purpose of acupuncture is to restore and rejuvenate the health of the patient through the stimulation of specific points throughout the body.

What happens during your acupuncture session?
Stimulating specific points in the body by using needles to penetrate the skin is not only a very effective way to relieve pain – it is also relatively pain free. Many patients don't feel any discomfort at all.
While the special acupuncture needles do their work, our acupuncturist will also perform a variety of techniques such as acupressure (a traditional form of Chinese pressure point massage), cupping, moxa and herbal medicine.
Managing your body's energy for 100s of years
Acupuncture was developed hundreds of years ago in China and the benefits were soon to be recognized by medical practitioners in Europe and the United States. It regulates the flow of energy in the body, which, if blocked, can cause health problems. Acupuncture helps open up these pathways and thus results in significant pain relief.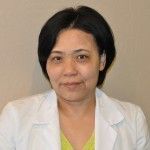 Dr. Linda Wang, Ph.D., O.M.D, L.Ac.
(650) 961-1688
[email protected]
Dr. Lin Ying Wang graduated from Guangzhou Institute of Traditional Chinese Medicine China. She was selected in the international Chinese Medical Doctor biography. Dr. Wang has a profound foundation of eastern and western medicine with more than 30 years of experience. Her diagnostic skills and unique combination treatments of acupuncture, and special acupressure technique along side with chinese herbal supplements treated thousands of acute and chronic diseases with remarkable effects. She specializes in stress/anxiety reduction; sleep disturbances, and acute/chronic pain control.
---
Jon Huang
Jon Huang graduated from Five branches university, Graduate School of Traditional Chinese Medicine with a Doctorate degree in Traditional Chinese Medicine. He received certification from California Acupuncture Board to practice acupuncture and other oriental therapeutic treatments such as Acupuncture, cupping, moxibustion, and herbs.
He started his career in Finance and banking. Like many others whose work involves day long sitting, he had experience with stiff neck, aching shoulders, and lower back pain, poor digestion and sleep quality first hand. Applying what he learned to self healing became the cornerstone of his natural healing journey.
He utilizes a combination of therapeutic treatments, electric acupuncture to relieve pain, and supplemental modalities such as hot stone massage, cupping, moxibustion, guasha, sound therapy and herb tea to help patients restore their quality of life. Common benefits and praises of his treatments are: patients experiencing a deep sense of relaxation and balance, radiant complexion, higher energy level, better appetite, improved quality of sleep, digestion, and the wonderful feeling of being truly cared for and healed.